Last time, I introduced the gods for increasing work luck and business luck with a focus on metropolitan Tokyo. Indeed, in big city Tokyo, there are many Gods who back up your work luck. However! There are Gods who strongly support your work luck in the Kansai area, where I live too (Of course, there are Gods throughout the country) too. The Gods of work luck in Kansai are built in more nature-rich areas rather than Gods in a city like Tokyo. They have different atmosphere from gods in Tokyo.
Following the Kanto region, I introduce the famous Gods for business and profit benefits in Kansai area!
Sumiyoshi Taisya! Everybody knows Sumiyoshi if you live in Osaka !
First of all, I will introduce <span class = "blue b"> "Sumiyoshi Taisha" </ span> where everyone knows the name in Osaka. Sumiyoshi Taisha is a First shrine of Sumiyoshi-ward, Osaka City, Shrine was built in the west of Osaka Bay and the Gods are for the sea. Tsuchio Three Gods and the Empress Gingko. It has long been associated with Sumiyoshitsu and Nanbatsu, which were key ports of diplomacy since the Kofun period, and has been worshiped as a god of navigation and a port.
The most famous luck is voyage safety, but Sumiyoshi Taisha also has benefits for business prosperity, easy birth and marriage.
Sumiyoshi Taisha has the most visitors in Osaka at the year first visit. Many people who want to improve work and business luck also come to pray.

<Access>
・3 minute walk to the east from Nankai Main Line "Sumiyoshi Taisha Station"
・5 minutes to the west from Nankai Takano Line "Sumiyoshi Higashi Station"
・A short walk from Sakayoshi Torii Station on the Sakae Line (streetcar)
Sumiyoshi Taisya Home Page


Oomiwa shrine, one of the representative shrine in Nara
Oomiwa Shrine, located in Miwa in Sakurai City, Nara Prefecture, is very famous for its mysterious nature in Kansai. It was written in "Kojiki" and "Nippon Shoji" as the oldest shrine in Japan. In addition, Oomiwa Shrine does not have a divine body, and Miwa Mountain which stays behind the main hall, is a sacred body. Miwa Mountain was a forbidden place, but now it is permitted to enter the mountain if the prescribed procedure is followed.
The God is Oomononushi no Ookami which is famous as a national god. He has almost of all benefits in industrial development such as agriculture, industry and commerce, politics, medical treatment, sake making, also medicine, transportation, voyage and marriage. In addition, <span class = "blue b"> work luck up, good fortune, success in life </ span> are also famous benefits.
(CC: Saigen jiro)
(CC: Saige Jiro) Miwa Mountain (Goshinntai: object of worship believed to contain the spirit of a deity) seen from the back of Big Torii
<Access>
・5 minute walk from JR Sakurai Line (Manyo Mahoroba Line), Miwa Station
・20 minutes by shuttle bus from JR Sakurai Line / Kintetsu Osaka Line in Sakurai Station at North Exit 2 Station                                                                                 Oomiwa shrine Home Page


Isonokami Jingu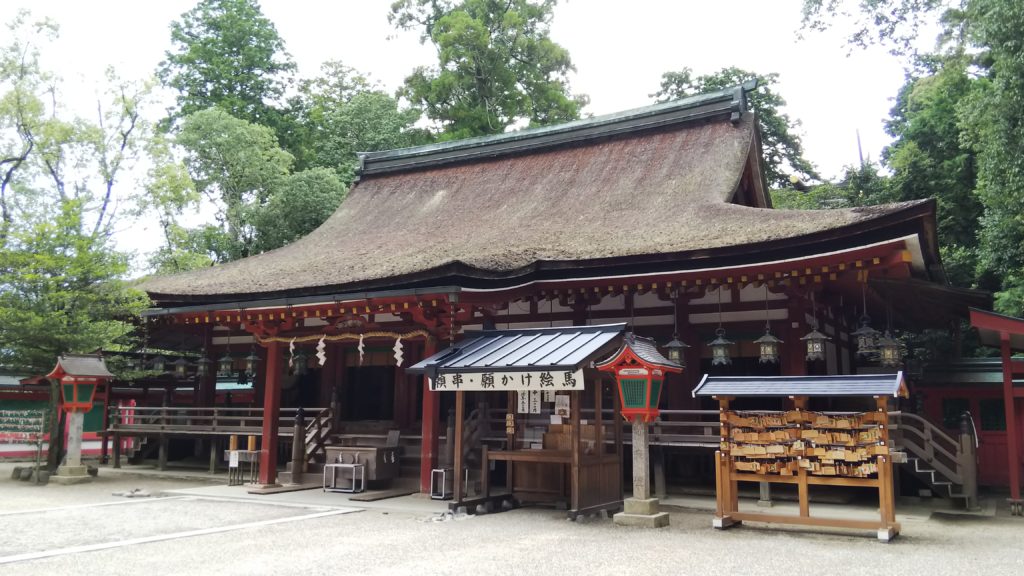 Isonokami Jingu Shrine is located in Tenri city, Nara Prefecture and it is said one of the oldest shrine in Japan. It is also known as a spiritual place where you can get Luck if you visit.
Located in the central east of the Yamato Basin, at the foot of the west of Ryuosan Mountain and the northwest of the hill of Fuduyama Mountain. The Ground is surrounded by evergreen trees around natural greens, and you can see Fuse River on the north.
The deities of the Isonokami Shrine are Futsuno Mitama no Ookami, Furuno Mitama no Ookami, and Futushi Mitama no Ookami.
What famous of Isonokami Jingu Shrine is the benefits of the "birth and death" ! This is originated from that the Emperor Jinmu returned to live by the psychic power of " Futsuno Mitama no Ookami" who is the main God of Isonokami Jingu. Based on this story, it is said that the God of Isonokami Jingu will lead us to recover our loss when we fell into trouble at work, and bring you to success.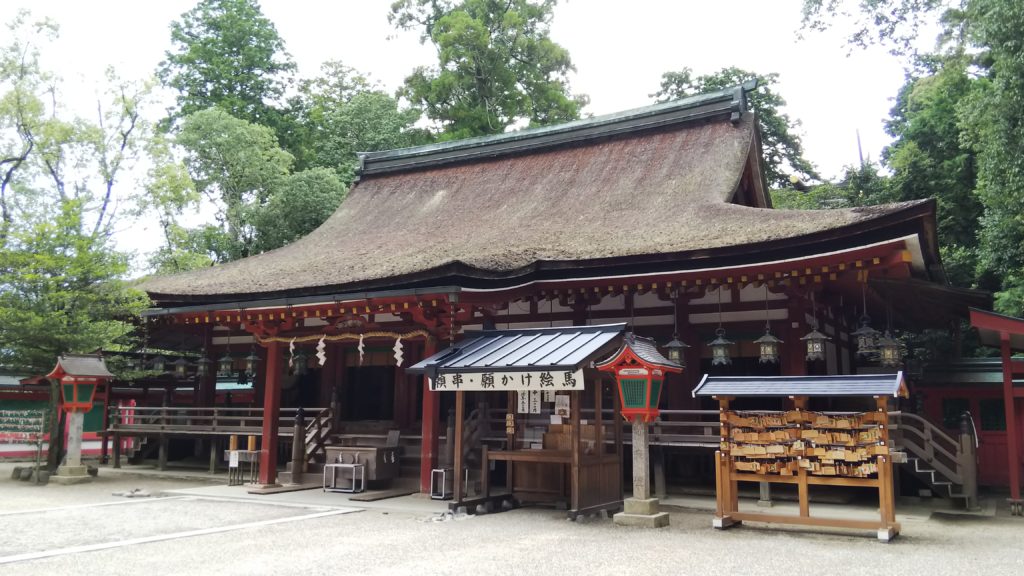 (CC: Saigen Jiro)
<Access>
・ From Osaka, take Kintetsu Nara Line from "Osaka Namba"Station for about 35 minutes , and transfer at " Yamato Nishidaiji"station. Then, take the train (Express) bound for " Tenri" for about 20 minutes and get off at "Tenri" Station.
・ From Kyoto, take a train bound for "Tenri" (Express) from the Kintetsu Kyoto Line "Kyoto" station about 60 minutes and get off at the "Tenri" station.
・From Kobe, take a train bound for "Nara" (High speed express ) from Hanshin Namba Line, "Sannomiya" station for about 70 minutes, and transfer at "Yamato Nishidaiji" station of Kintetsu Nara Line. Then, transfer to a train bound for "Tenri" for about 20 minutes and get off at Tenri Station.
It takes 30 minutes on foot from Tenri Station, about 10 minutes by taxi. If you take  Narahara Bus bound for "Chisyawara" about 7 minutes and get off at "Ishigami Jingumae", and take 5 minutes' walk. It would be better to check the bus time in advance.
Isonokami Jingu Home Page


Gurdian of Samurai Japan!Kumano Hongu Taisya
"Kumano" is an area from the southern part of Wakayama Prefecture to the southern part of Mie Prefecture, and Kumano Hongu Taisha is one of Kumano Sanzan (Kumano Hongu Taisha, Kumano Nachi Taisha, Kumano Hayatama Taisha).
The road to visit these three shrines is called "Kumano Kodo". Kumano Kodo is registered as a World Heritage Site and has become very famous place as a spiritual site visited by people from all over the world. In addition, Kumano Hongu Taisha's symbol, Yatagarasu ( three footed grow) has become a symbol of the Japan Football Association, so, it is drawn on the uniform of Samurai Japan.
The God of Kumano Hongu Taisha is Ietsubi no Miko (Susano no Mikoto). It is said that God descended on the land of the main shrine in the ancient times, therefore, the shrine was built in a sacred place, Oosaibara which is located in to the middle of the three rivers in Emperor Shinjin 65 (33 BC). During the Nara period, Buddhism was also incorporated into Shinto, and Kumano faith spread among the royal and noble families during the Heian period. From Kyoto where royal family and nobles live, the Emperor and Empress came to worship Kumano Sanzan via Kumano Kodo, After Muromachi period, regardless of gender or social class, many people visited Kumano for worship.
The benefit of Kumano Hongu Taisha is "Realization of the wishes". Because there is a powerful power of major reversal with revival, you can overcome any situation! It is very popular with people who want to be successful in business, so, they come to wish for good luck in the first visit of a year.
I have also visited Kumano Hongu Taisha. You have to walk about 5 ~ 10 minutes to get "Osaihara" from the main shirine, however, this "Oosabara" released strong aura. Many people visit Kumano Hongu Taisya for worship even in remote places, because there is something to attract.
(CC: Saigen jiro)   Big Torii of Kumano Hongu Taisya. Yatagarasu is drawn on the flag.
(CC: Saigen jiro)  Oosaihara is located a little away from the main hall. I would also recommend to visit here too)
<Access>
1 hour and 20 minutes by bus (Kumano Kotsu) from JR Kisei Main Line "Shingu Station"
For more detail transportation reference → Kumano HonguTaisya Home Page


Kurama Temple, where Tengu is also visible and hidden
Lastly, I will introduce one more very powerful God. That is Kurama-Temple which is very famous for the episode of Minamoto no Yoshitsune. Kurama-Temple is located in Back of Kurama Mountain. I recommend the path through Kurama Mountain to Kibune Shrine as a hiking trail and there are many spiritual spots on this road.
This mountain is famous for the fact that Yoshitsune (Ushiwakamaru) had a hard training to become a great warrior. Kibune-jinja Shrine is also well known for the god of water.
In Kurama Mountain, Sanato Kumara fell to Earth from Venus in 6.5 million years ago is worshipped. It is said that Kumara later became Tengu (A kind of Japanese devil) and taught the swordsmanship to young Yoshitsune (His child name was Ushiwakamaru). In front of the main hall of Kurama-temple, diamond floor of Six comets design is stuck. It releases very strong powers. At the end of the Heian period, Kurama temple was protected by many armed monks.
In addition, there are many episodes of Minamoto no Yoshitsune and other samurai such as Takeda Shingen, Toyotomi Hideyoshi and Tokugawa Ieyasu. They prayed for victory in the battle, Toyotomi Hideyori restored Yuki Shinto shrine. From those stories, we can know that Kurama Mountain has been well-served as a god who will give you victory luck. The whole mountain is surrounded by the full of power, so when you go, you can feel its power.
(CC: Nakou Oronain) Diamond floor of Six comets design in front of the main hall. Some people feel the power.

(Reference:Legendary loa, root of trees

Roots of the trees on the way to Kifune Shrine. The power here is full. A place of training Yoshitsune.

Roots of the trees on the way to Kifune Shrine. The power here is full. A place of training Yoshitsune.
<Access>
・ Keihna Line:At the end point of Keihan Line, Demachiyanagi station, transfer to Eizan Line, and get off at "Krama station" (30 minutes)
・ Subway East and West Line:Get off at "Keihan Sanjyo" station and got to "Demachiyagagi station" by Keihan Line. Then, transfer to Eizan Line and get off at "Kurama station".
Or get off the Karasuma Line "Kokusaikaikan Station" from the subway "Kyoto Station" and take Kyoto Bus bound for Kurama Onsen , then get off at "Kurama" bus stop (25 minutes)
Kurama Temple Home Page



Conclusion

This time, I introduced the famous shrines and temples for Job luck and Victory luck for business success in the Kansai region. The shrine located in the middle of a city like Kanto area is only Sumiyoshi Taisha, and most profitable shrines in the Kansai area sit in a rich natural environment. However, each shrine has great episodes lead to work luck UP.
That's why many people would be interested in visiting these shrines or temple to get Good Luck!